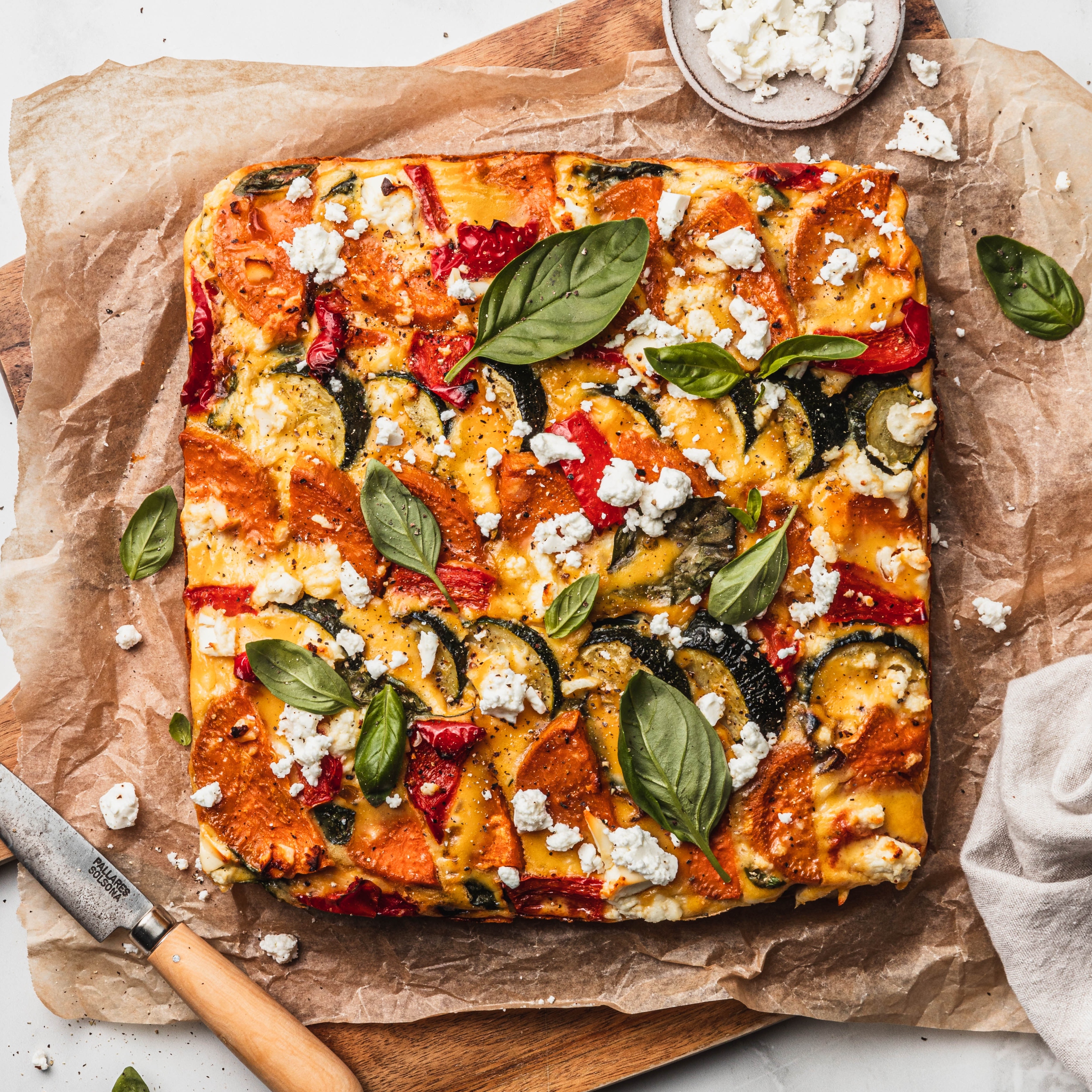 11 Jan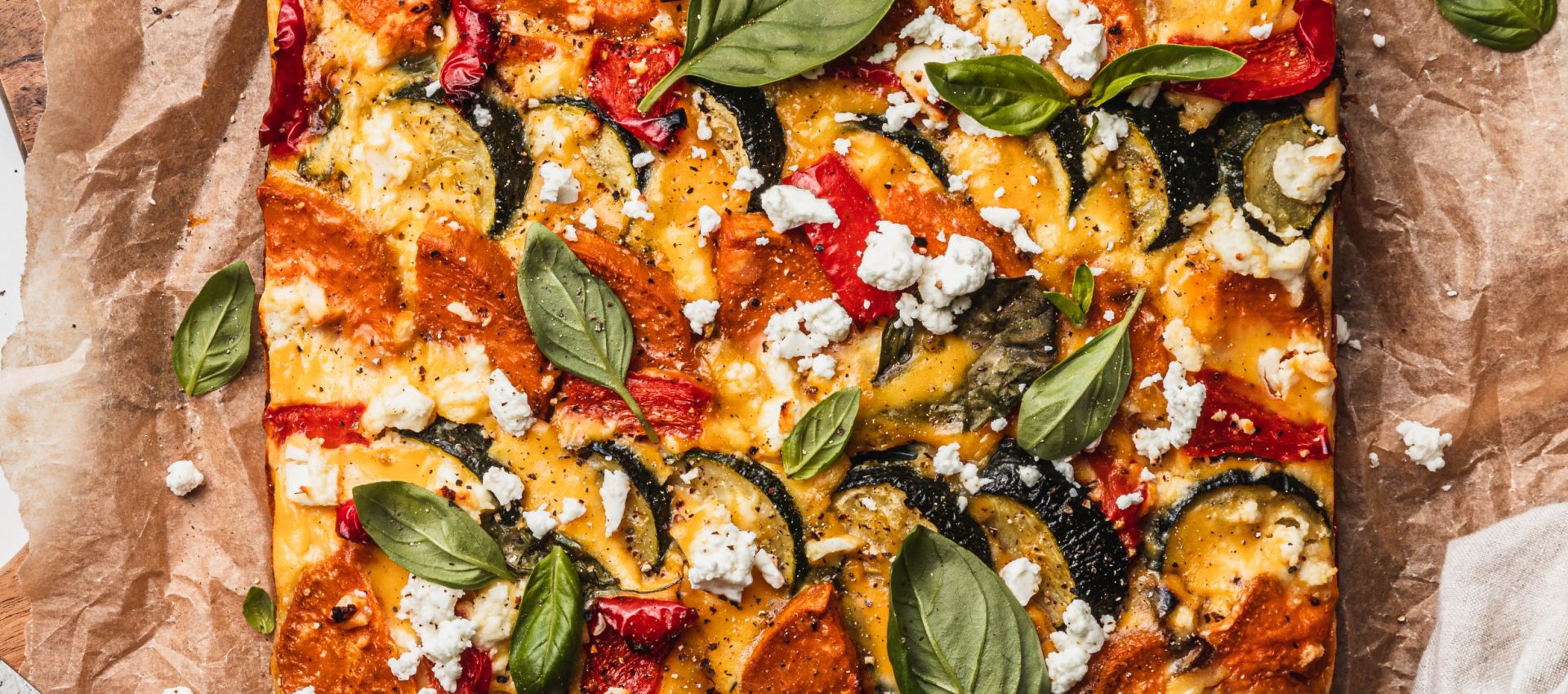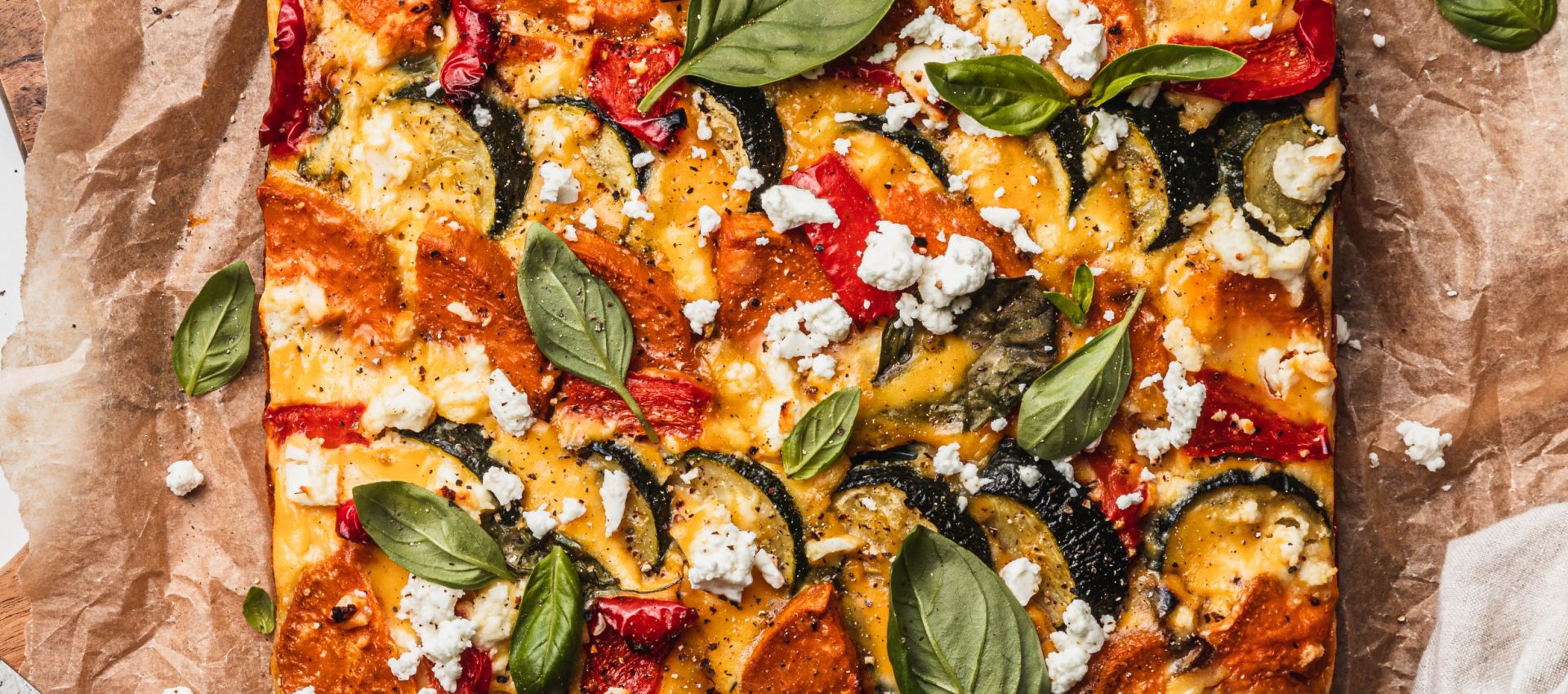 Sweet Potato & Rainbow Veggie Frittata
January 11, 2022
Prep: 15 mins
Cook: 1 hr
Ingredients
1 large sweet potato (approx 600g) peeled, halved lengthwise and cut into 1cm-thick slices
1 large red capsicum, deseeded, cut into 1.5cm pieces
2 zucchini, sliced into 1cm thick rounds
85 g Danish feta, and extra for serving
Directions
1Preheat the oven to 200°C/ 180°C fan force and line a large baking tray.
2Toss sweet potato, capsicum and zucchini in 1 tbsp of the olive oil, season with salt and pepper. Bake for 20-25 mins or until vegetables are tender.
3Meanwhile, caramelise the onions – heat the remaining 1 tbsp of olive oil in a frying pan over medium heat.. Add the onion and cook, stirring often, for 5-6 minutes or until onions are turning translucent. Add a good pinch of salt and pepper. Stir and continue to cook for another 5-6 minutes, until onions are brown (be careful not to burn them!) Add vinegar and cook for a further 3-5 minutes until vinegar has soaked into the onions. In the final minute, add the baby spinach and cook until just wilted. Remove from heat and set aside.
4Whisk together the eggs and milk in a large bowl. Stir in the basil and ¾ of the feta. Season with salt and pepper.
5Lightly grease and line a 22.5cm square baking pan/cake tin with baking paper, allowing paper to overhang by about 5cm on each side. Add half of the roast vegetables and the caramelised onion mixture in an even layer over the base of the tin, then pour over the egg mixture. Arrange the remaining roast vegetables on top and sprinkle with remaining feta.
6Bake for 40-45 minutes or until centre is just set. Using the paper overhang, lift the frittata out of the pan and allow to cool on a wire rack for 10 minutes.
7To serve, sprinkle with extra crumbled feta and fresh basil leaves.